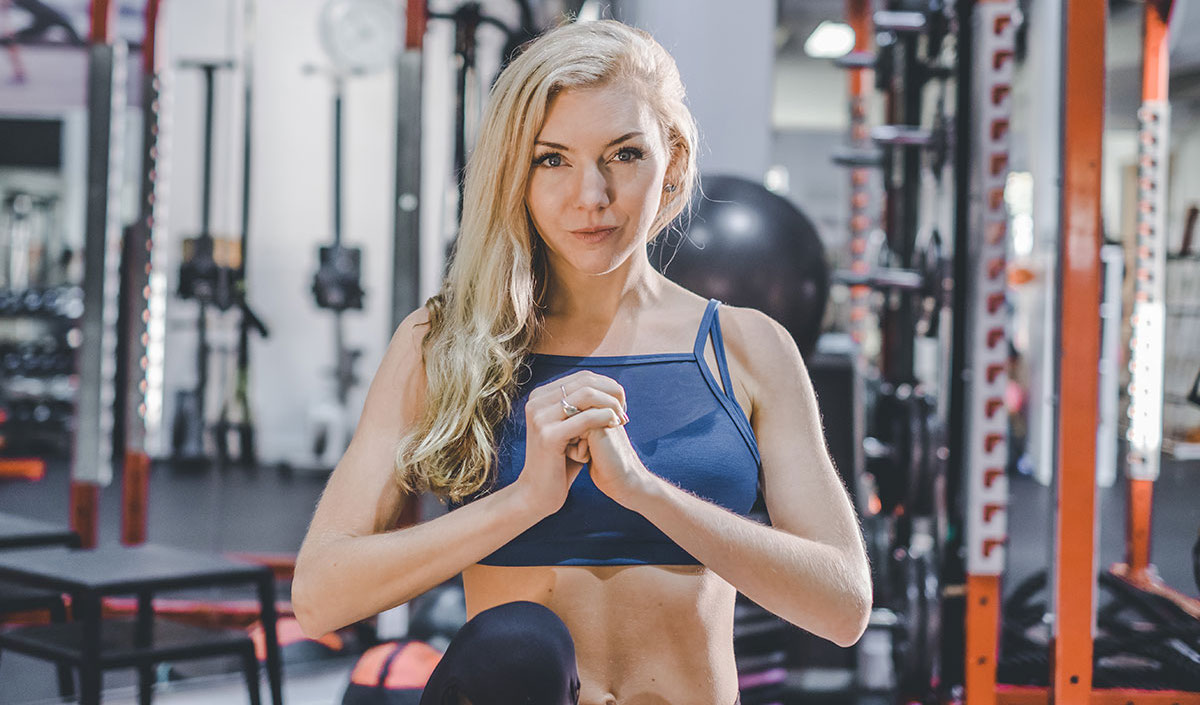 Leading an empowered life through consciousness, commitment to change, consistency and community.
This is the essence of Fit Club and it's all about a happier, healthier you!
Fit Club was originally created as fitness program to help women fit effective, home workouts into their busy lives. Like all good ideas, Fit Club has evolved into something much more powerful and magical than that.
Today, Fit Club supports a lifestyle shift for the conscious women who is looking to raise her vibrations through plant-based eating, mindfulness and mindset, and exhilarating workouts that build strength, shape and most importantly – a connected mind and body.
Behind all of this is me, your humble guide, Rebecca. I'll be there supporting you with your goals, intentions and personal growth. Not only will you learn what it takes to make lasting, healthy lifestyle changes, you will also get to connect with a community of empowered women all on their own journeys of personal growth and transformation.
Fit Club is open to women who are committed to true transformation and I invite you to take this step with me now!
I believe we all have the power within us to build a strong, healthy mind and body.
I am a health, performance and mindfulness guide who helps women achieve balance on a mental, spiritual and physical level. I inspire people to live the most vibrant, conscious life possible.
With my wealth of knowledge in health, nutrition and fitness, I created FIT CLUB to empower women to take their health and wellbeing to the next level. As a busy parent, I understand the importance of working on yourself, all while juggling work, kids and the daily grind. That is why Fit Club is firmly grounded in reality and provides guidance and inspiration along the way.
So what do you need to work with me in Fit Club?
Simple. A willingness to step into discomfort and towards a new direction.
If you are looking to enhance the path you are on…
Will you trust me to help you?
Establishing and meeting our fitness and lifestyle goals begins with a healthy mindset. It can be hard to stay on track when negative self-talk creeps in, when you feel unnecessary guilt, or when you put unreasonable demands on yourself. With FIT CLUB you'll feel supported as you set achievable goals, learn to love who you are, and enjoy the process of becoming a happier you.
When you join the FIT CLUB community, you'll have access to the tools and support you need to discover your inner strengths and become more enlightened and empowered.
FIT CLUB is for you if you already feel the pull of something bigger for yourself and are ready to take a more holistic approach towards healing and happiness:
elevate your fitness routine and help you build strength
teach you how to incorporate more plants into your daily life
develop a successful consistency mindset
live from a place of trust and love
lead you away from the all-or-nothing mentality
give you permission to love your body and never diet again
Here's how it looks on the inside…
Every month is a new wellness module that will teach you how to:
live mindfully with purpose and focus
exercise for the love of movement and connection to your body
build muscle and strength to improve your metabolism and confidence
break your sugar habit and live a life low in sugar
transition to a diet that focuses on balance with lots of veggies, healthy fats, complex carbs and lean proteins
adopt self-care rituals that nourish your soul
When you join this program, you'll gain exclusive access to:
monthly printable calendar with suggested workouts
new workout videos every month only available to FIT CLUB members
a private Facebook Group that connects you with other members
a weekly newsletter to help you keep your head in the game and stay accountable
exclusive recipes
mindfulness techniques and mindset work to improve your lens through which you view the world
If you aren't clear on whether or not this is the right program for your lifestyle and goals, please email me at rebecca@benaturally.fit so we can set up a quick coaching call to determine whether or not we are a match energetically.
How much time do I need to invest into this program?
I recommend at least 20 minutes a day for the workout and to do any work on any self-reflections or journal prompts.
Do I need to be a vegan to follow the nutritional tips and recipes?
NO! In fact, most members are not vegans:) This program is centered around a wholefoods, clean diet that is abundant in plants. Learning what works best for you is a process that I can help you navigate. Providing you with techniques to handle cravings and meal prep, you will gain more confidence knowing what is best for your wellbeing.
We consider ourselves a healthy group who enjoys chocolate as much as we do green juice 🙂
How much fitness background do I need to have to follow the workouts?
NONE! But you do have to be willing to be challenged. This program was designed for all fitness levels. You are also encouraged to continue doing the workouts you already love and that work for you. I supply challenging, effective home workouts to compliment your busy life.
How much will we work together?
Because the program is delivered through the login on my site and through email, you are responsible for staying on top of the content. I am available for private one-on one coaching calls if requested. There is also the Facebook forum where I can answer any of your questions within a matter of hours.
Choose your Fit Club membership
I want you to feel confident in your decision to join FITCLUB, so membership comes with a 30 day guarantee! If you decide FITCLUB isn't for you within 30 days of joining, you can cancel and receive a full refund.
Still unsure if FITCLUB is the right choice for you?
Hear from those on the inside.
Christine Wohlleben
"I feel like I have been part of not only FITCLUB but also Rebecca's journey from traditional health and wellness to incorporating so much more. In most programs there seems to be a missing link, especially when you're a bit older like me (early 40's). In my 20's when I trained, I just thought about the physical and how it would change my body, but after experiencing life and injuries and having some limitations with certain exercises, it has been very important to be able to bring in other ways to make me "healthy". Rebecca has done that and has actually made the mind-body connection that is so important especially in today's world. Rebecca has also been a source of inspiration and guidance with her own mindfulness and meditation work, and with the sharing of her personal experiences as she also learns and grows. Between Rebecca's social media posts, FITCLUB newsletters and in-person workshops, I continue to learn and expand and truly love the well-roundedness of her program. I may not necessarily be able to work out everyday, but there is nothing stopping me from incorporating a meditation or mindfulness practice and cook up a nourishing meal. Rebecca has created a community of really amazing and supportive members and I am so happy to be part of her tribe."
Jessica Wilson
"I first met Rebecca over a decade ago but was reconnected with her when a good friend gifted me a membership to her FITCLUB. At the time I had a 3 year old, a 1.5 year old and was pregnant with my third child. In between my pregnancies I had struggled to find a fitness routine/healthy lifestyle that worked for me as a busy mom of young children. I decided to give Fit Club my all for a couple months to see how I felt. Rebecca helped me modify some of her workouts so they were safe for pregnancy and after that I never looked back! With Rebecca's coaching I had my healthiest pregnancy and also my most enjoyable. I had way more energy and felt so much better overall. After having my baby I trained with Rebecca biweekly for about 6 months and made so much progress not just physically but mentally. Rebecca taught me about the long game, about how consistency wins out every time, and how small changes that are attainable can make all the difference. I love that Rebecca has such a variety of knowledge when it comes to training and makes all her workouts dynamic, creative and effective. I've been in Rebecca's FITCLUB coming up on 3 years now and she still never ceases to motivate and inspire to be my best self!
Thanks Rebecca!
#fitclubforlife"